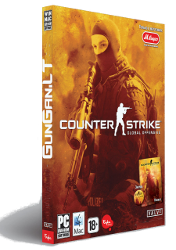 CS: GO game is payable.
Counter-Strike: Global Offensive is distributed on the Steam platform.
Download Steam free, you can on the official website http://store.steampowered.com/about/
Licensed version of the game allows you to come to Valve's official servers, participate in tournaments, get new weapon skins.
CS: GO purchase.
In the Steam menu, go to Store and write in the search bar: Counter-strike: Global Offensive.
The search will automatically submit this game. We press the search result and go to the game page.
We find and push to buy Counter-strike: Global Offensive (we put it in the bag).
In the Steam bag, choose the right option: buy yourself or buy a gift for others.
Thereafter, a payment system will be established, according to which the purchase of the game will be made.
Checking and purchasing is the final stage of purchase.
Then you need to go to the payment system page.
We fill out the required payment system form and go to the library where the game was added after the purchase.
CS: GO installation.
In the library, we choose the CS: GO game and press - to install the game.
We list the game installation directory (by default - the standard location is in a separate steam folder), we create an icon on the desktop and press - finish.
The installation has started, about which you will be informed by the appropriate warning in the library.
At the end of the installation, Steam will display a message that the download has ended.